By Lee Wright
In commencing the iconic road trip to the happiest place on earth, one quickly realizes that perhaps it is not such a small world after all.
Our previous trip, before children, boasted a marathon drive from Toronto to Florida in twenty-four hours straight.  With kids three and six in tow, I quickly realized why so many other parents wide-eyed the question: what do you mean you're not flying?
From automobile breakdowns to infant meltdowns, your trip should not cost you your entire savings or your complete sanity.  There are ways to not just survive the trip, but to make a truly memorable journey.
Fun stops along the way. To expect your child to bottle Christmas Eve level excitement for the three day ride is just asking for trouble.  What should be anticipated and mutual enthusiasm can quickly devolve into timeouts and loss of privileges.  Make sure you plan for several cathartic diversions.  For us, my six year old wanted to stop in Washington because she had heard so much about American politics in the last year, and my three year old agreed that he hoped he would see his friend, "B-rock".  Another major release was the two day stop in Point Pleasant, New Jersey, a classic American beach town complete with boardwalk and fun fair.  However, the stops don't have to be so dramatic.  If you call ahead, you can see which hotels have pools, and which stops are near mini-golf centers or outlet malls.  And thanks to a knowledgeable hotel manager, even a stop at an old fashion park with a swing and a slide was enough to make our children's day.
Fun for the ride.  If you think twenty-four hours of confinement is tough, think about it from a kid's perspective.  Are we there yet is not just a question—it's a plea.  Dollar store toys are a sure way to stay on budget yet provide children something new and fun to play with.  An assortment of inexpensive items will help stimulate anticipation, and might just provide a much needed reward for good behavior.  Speaking of inexpensive rewards, a trip to the Bulk Barn to let your children choose their own snack for the way down provides a sense of independence and choice.
But if you want your ride to be more than just snacks and distraction, think about what activities you can do as a family that will help foster that interaction and connectedness desired in a vacation.  Many educational stores like Scholars' Choice have a range of stimulating activities, from flashcards to trivia games.  Some stores will even have a road trip aisle of tried and tested favorites.
Similarly, tweaking standard boredom busters like CD's and DVD's can provide for intellectual invigoration or family touchstones.  Ordering educational CD's in advance of our trip helped to reinforce our children's school curriculum in French and Math, and made our daughter one step ahead as she entered grade two.  Furthermore, waiting to show that new DVD until the trip provided a first time thrill for my kids that won't soon be forgotten.
Fun for your bank account. The last thing you want is to return from your journey to a mountain of vacation debt that will make you regret the holiday and fear taking another.  So there are plenty of ways to reduce your costs without tightening the screws.  An inexpensive cooler will enable you to store lunch meat, fruit and milk providing for several low maintenance hotel room breakfasts or a spontaneous picnic lunch at a scenic vista.  Considering the majority of restaurants ignore basic portion guidelines, and kids can become magically full after a few bites, using the old chiller can stretch a fifty dollar family meal into lunch, dinner or snack the next day.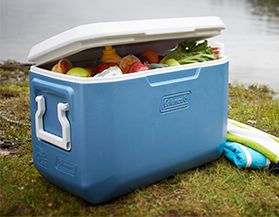 Gas cards are another way to make the most of those many miles, or even pay for the fuel bill outright.  Garnering points several months before the trip gave us the option of a free tank of gas to get our trip off right.  Collecting points could also be cashed in for airline tickets the next time you really don't feel like a road trip.
And don't forget the discounts.  Joining AAA not only provided security if our vehicle somehow spun a bearing, but offered up to fifteen percent off many attractions, restaurants and hotels along the way.
Picking the right hotels can also be an important money saver.  For instance, sticking with one chain, like Holiday Inn, can often save you money.  This summer they offered a buy two nights and get the third night free promotion which can save you up to one third on lodging for a six day trip. Similarly, booking with the same chain helps to plan for those penny pinching extras:  Holiday Inn usually had a free breakfast for the entire family, and some stops even had free dinners for kids.  At the end of a hard day of driving, familiarity and a sense of routine can often mend a nerve or two.