When meeting westerners also winding their way through an Italian dream vacation, there seems to be a common refrain to each discussion: you can't do it all. Unless you have an unusual amount of time to travel, most families on a two-week timeline must pick and choose places to visit, and which to save for future exploration.  Nevertheless, even though you might feel pressured that time is of the essence, you'll quickly realize that no matter which custom route you decide to travel, in Italy time is the essence.
For our first trip to the land of the ancient city states, Rome was a must. As the centre of an empire whose impact still echoes, we knew that a decent tour would warrant at least five days.  To make such a venture is truly something that your entire family can enjoy, we suggest partnering with a reputable tour-bus company that offers hop-on hop-off service around the city (https://www.isango.com/rome).  To our great surprise, unlike Paris and other European cities, a lot of Rome's historic places did not have visible signs or crowds.  For instance, Circus Maximus, the largest sports facility in history, seating up to 300,000 chariot-race spectators, was not even marked, nor had a tourist in sight.  Similarly, the ruins where Julius Caesar was murdered offered a small, damaged, illegible sign, and now houses a cat sanctuary.  It was only through our hop-on hop-off bus trip that we were informed of the magnitude of what we were seeing.  In the comfort of air conditioning, and Wi-Fi for my teenager, we surveyed the city and then returned to spots that we now knew were invaluable.
As well, the hop-on hop-off tour provided skip-the-line access to the Vatican and Colosseum (https://www.isango.com/rome/rome-open-tour-and-colosseum-tour-and-vatican-museums_24323).  This might seem a luxury item, but we can't recommend it enough.  At the Vatican, the line was something that we haven't seen before in any other tourist location around the world—at least a four hour wait in 35C heat.  To be sure, the Vatican was hot and crowded inside, and we spent several hours witnessing the majesty of the Galleria delle Carte Geografiche and the Sistine Chapel.  But we concluded that if we had to fight the line before entering, it probably would have ruined our entire day.  Our own children would have given up a few hours in queue without shade, and we even saw families with children our age turn around and decide to pass up the experience.  After visiting the Vatican, we returned to our hotel, changed out of our "good" clothes (no shoulders or knees showing please!), and went exploring for the rest of the day.
Of the major sights, do not pass up the Forum and Palatine Hill on the way to the Colosseum. As the birthplace of Rome, where they have even discovered some of the original artifacts of Romulus' tribe from around 750 BC, the Palatine was the location of generations of Caesars, which they shrewdly chose in order to oversee the central hub and marketplace of early Rome—a presence that leaders needed in an often tumultuous experiment of early democracy.  One end of the Forum will lead you on the path to the Colosseum, a place that will delight most children and capture their imaginations of ancient rigorous competition.  Yet, you might find lesser-known locations, like the Mamertine Prison at the Northwest corner, where tradition holds that both Peter and Paul were jailed.  For my partner, the epitome of Roman history and architecture is the Pantheon.  As Caesar Augustus' close friend and lieutenant who helped him defeat Mark Anthony and Cleopatra, Agrippa was rewarded the prestigious appointment to oversee new buildings, aqueducts, and infrastructure.  Commissioned around 27 BC, the Pantheon remains one of the best-preserved ancient buildings in all of Italy, primarily because it was in constant use as a place of worship, from the first-century Romans to the modern-day Church of Saint Mary and the Martyrs. As the largest unreinforced concrete dome in the world, larger than the US Capitol Dome and St. Peter's Basilica, it houses historic tombs such as the first Kings of Italy, and the renowned painter Raphael.  At the time of his death, he was considered perhaps the greatest artist of the enlightenment, and the inscription on his sarcophagus boasts: Nature feared to be outdone while he lived, and when he died, feared that she herself would die. The magnificent coffered ceiling rises to a single oculus, allowing only natural light to fall on the original geometrically patterned marble floor.
Some understated areas not necessarily on every family's radar might include Piazza Navona, tucked neatly behind the Museo Di Roma, with fountains as intriguing as Trevi Fountain, or Roma Street Life nestled along the Tiber between Castel Saint Angelo and San Peter for great entertainment, food and art. Restaurants, as you would expect, are plentiful, but our favorite would have to be Taberna–Patricii Et Plebe, a place for the aristocracy and the common folk, who boasted the best restaurant in Roma.  The elegant, sprawling murals were painted by artist Vicenzio Petrillo, and my son kept asking other restaurants if they could make his meal taste like this pasta emporium.  After dinner, down the street, you'll want to visit Pinocchio for original handmade wooden puppets that will let your young ones know the shopping is not just for the adults.
Our next destination was Pompeii, a stop perpetrated primarily by our children who have studied it in school and at our local museum. As many will tell you, driving in Italy can be a treacherous experience, and we found the best way to travel from city to city was the highspeed train.  In fact, to make your experience seamless, purchasing rail tickets through reputable outlets like ItaliaRail (https://www.Italiarail.com)  is like having a friend on the ground to help negotiate your travels.  As the number one international seller of train tickets in Italy, their proprietary algorithms ensure passengers, including families travelling together, get the best deals on seats and upgrades.  They even provide the inexpensive ItaliaPass (https://www.italiarail.com/italiapass), $19 for a family of four, that offers discounts on tours, hotels, cellular data, and access to their Rome terminal luxury lounge, which can be a needed source of refreshment and spirited direction in Europe's busiest station.   Travelling by train through Italy is also, quite honestly, a very relaxing way to go.  Being a Canadian with little rail experience, the ability to stretch out and have some face-to-face time after logging many miles on our feet was just what our family needed to recover before exploring the next historic location.  As well, the views of sprawling wine regions like Tuscany might provoke dreams of a return trip sans enfant.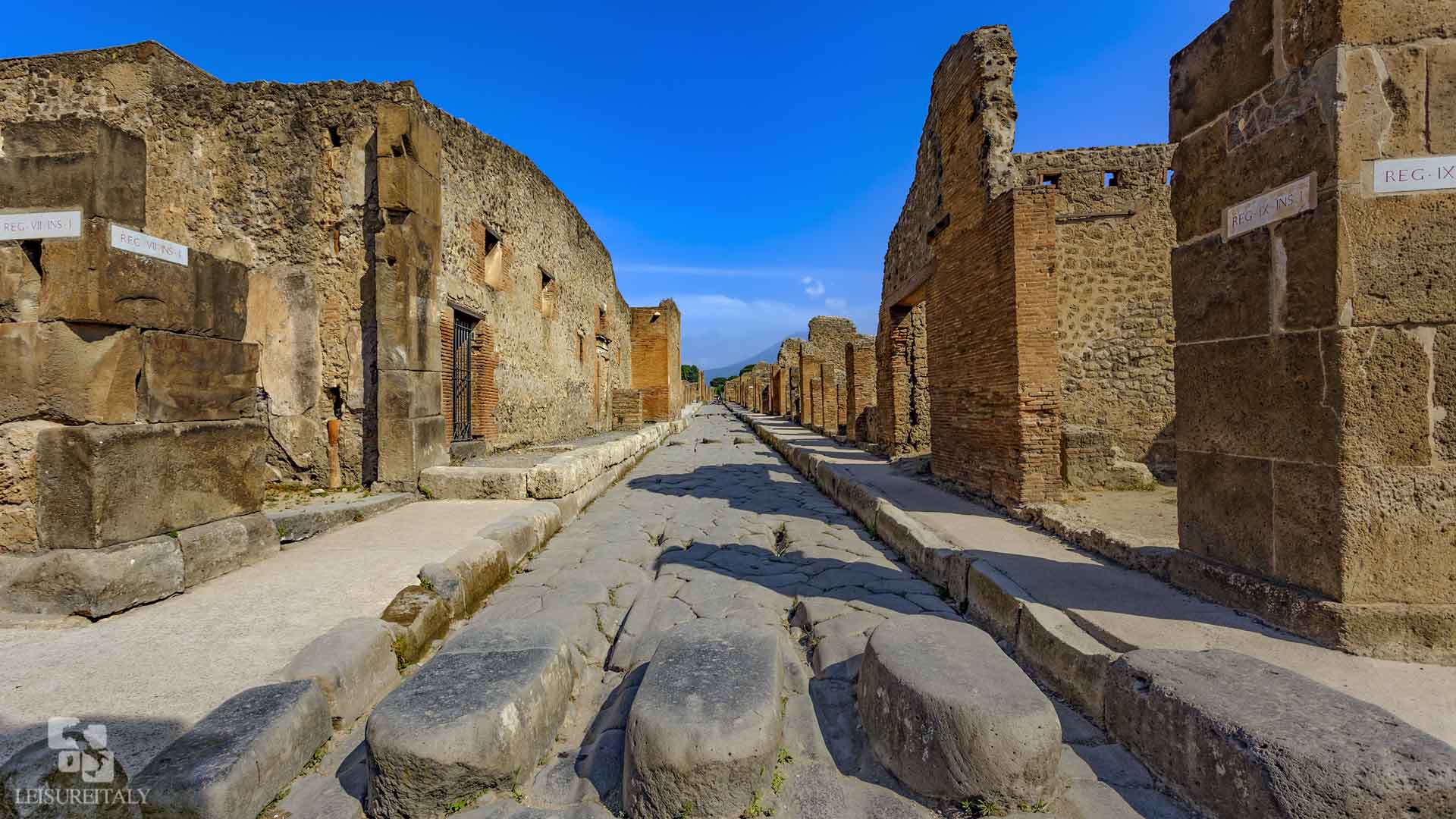 Staying in Naples, the closest major city, you can take a trip for $67 per adult and $53 per child, that will designate a meeting point and provide you a four hour guided round-trip experience of Pompeii (https://www.italiadeals.com/region/119779/naples-pompeii-amalfi-coast). We chose instead to take the train, as it wasn't far, and we wanted to have some time at the beach through the jagged cliffs of Sorrento, a few stops past our destination.  Of all the places we visited that requires a tour guide, Pompeii is a 170 acre grid that has been being excavated for the last 250 years.  If you were to wander by yourself, you would likely miss the gladiator training center, the intricacy of the "sound system" in the stone drama theatre, the human and animal casts, the subtle signs realized by archeologists, and even the first century graffiti.  As a town of twenty thousand suffocated by about twenty feet of volcanic ash, we were stunned by the modern logic of the streets, including the ancient sewer system, the two-story houses of both the wealthy and middle-class, and the businesses on the main strip, including fast-food restaurants for locals and visiting sailors.
Our final location, Venice, could easily warrant a week in this former empire of the north. Once again, taking the highspeed train from Naples, which cut our travel time from ten hours to five, we stayed in Venice East, outside of the Venice of people's dreams, but is often recommended by Italy's major tourist agencies.  The pressure of tourism can often see up to fifty thousand visitors a day, putting enormous strain on this once thriving republic.  At one point, the city even discouraged cruise ships from visiting because the constant flow of visitors was taking its toll on residents and infrastructure.  Nevertheless, heeding cues from local preservation suggestions, Venice is unlike any other place you will ever visit.  The famed gondola rides are around 100 Euro.  But depending on the time of year, and amount of tourists on a particular day, you're probably better off arriving with a Show-and-Go Pass for $40 per person (https://www.italiadeals.com/tour/181102/classic-gondola-ride-show-go-pass).  You simply purchase your pass online, and then show up 30 minutes before the tour you want to join, which allows families much needed flexibility on the go, rather than be tethered to a scheduled ride regardless of the weather.   Besides gliding through canals and admiring Renaissance houses and conveniently located museums, don't forget to visit St. Mark's Basilica.  Easily one of the grandest squares in the world, it is flanked by a palace that leads to the adjacent gallows, which housed the likes of Casanova until he made one of the most of unlikely of escapes, yet still paused to enjoy one last famed Italian coffee before exiting Venice on a gondola.  In fact, the route to the prison is along the Bridge of Sighs, where convicts would suffer one last tantalizing look at the canals before serving their sentence.  And if time allows, make sure you visit the island of Murano in the Venetian Lagoon, where stained glass artisans once served the entire known world.  In fact, so guarded was the art, that if a craftsman left to peddle his wares in other parts of the world, his family would be immediately arrested.  If he still did not heed the warning, he would have been pursued by until he was appropriately dispatched.
Italy is indeed a place where one visit will leave you wanting more. Future adventures for us will include Florence, the birthplace of the Enlightenment, Verona of Romeo and Juliet fame, Milan, and even the island of Sicily where olives grow in abundance.  But no matter what custom trail you follow, Italy's art, architecture, food, wine, and innovation will remind you that the history of human survival is not just contained in works of the printed page, but in every intriguing step that you take.
For further inquires, please view: